GALLERY 3
THE TROOPS
I have tried to list as many people as I can remember from my tour of duty with the Mortar Platoon, Company D, 2nd Bn, 7th Cav. The following list inadvertently omits some of my companions. If you know of anyone that is missing from the list, please let me know by e-mail. Also, if you are in touch with any of these individuals, please let me know or ask them to contact me.


E-mail address: Webmaster at rsalazar dot net
---
December 1966 rotation
Rolando A. Salazar (me), San Francisco, California
Lloyd Butler, Azusa, California
Richard Woodke, Logansport, Indiana
John Sommer, Wyandotte, Michigan
Ronald H. Pugh, Crab Orchard, Tennessee
Don Rodriguez, San Francisco, California
Daniel Dandrea, Buena, New Jersey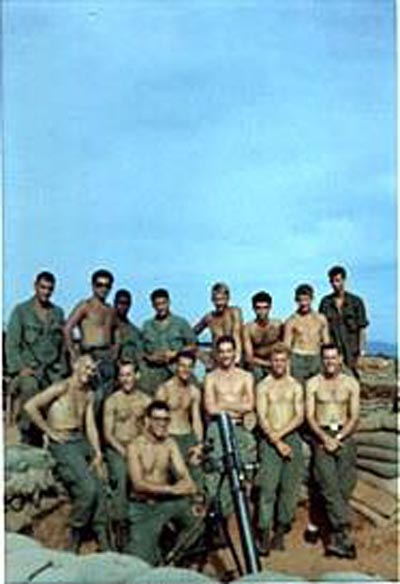 Joseph Cardwell, Sea Isle City, New Jersey
Frank Garza, Camden, New Jersey
Eddie A. Stanfield, Los Angeles, California
James Craig, California
David L. Platson, Janesville, Wisconsin
Richard Allen, Chicago, Illinois
Anthony Picciuto, Albany, New York?
David MacDonald

June 1967 rotation
Henry Guidotti, Buellton, California
Max Bennett, Colorado
Charles Boyd Williamson, North Carolina
Roger Meeks, Chicago, Illinois
Ronald Newberg, California
John Austin
Richard Fahrenbruch (killed in action)
Robert Datish
Lawrence Lonzo, Texas
Odell Bonds, Texas
James Hunt
Robert Alexander, San Francisco, California
Haskell O'Donnell
Larry Holt
Steve Franciskovich
James Santa Maria, Pennsylvania
David Thrower

June 1966 rotation
Salvatore Mione, New Jersey
Victor Salgado, Puerto Rico
Victor Ware
Leonard Reynolds, New Jersey
Ivan Alfaro, Puerto Rico
Donald Lee
William Shields
Albert Bourgeois, Vermont
Raul Rodriguez

NCOs
Howard Smith, Staff Sgt., Georgia
David L. Hancock, Staff Sgt., St. Louis, Missouri
James W. Mobley, Staff Sgt., Mississippi
Bruce Stacey, Staff Sgt.
Roy Sosebee, Staff Sgt.
OFFICERS
Bobby R. Adams, Captain
George J. Martindell, Captain
Chester Cary, Captain
Feegeebee Parrish, Captain
Oscar O'Conner, Captain, El Paso, Tex.
Peter J. Conway, 1st LT
Larry Spence, 1st LT
John Foley, 2nd LT
Glen Gayheart, 2nd LT
---
| | | |
| --- | --- | --- |
| PREVIOUS | HOME | NEXT |
| | JOURNAL | |
Last Update: 01/05/09
ęCopyright Rolando A. Salazar 1999-2009. All rights reserved.